4.1. System start-up
Check the following configurations before using your spa depending on your spa system:
· TP-600
TEMPERATURE CONFIGURATION | TP600
When using a panel with Up and Down buttons (Temperature buttons), pressing Up or Down will cause the temperature to flash. Pressing a temperature button again will adjust the set temperature in the direction indicated on the button. When the LCD stops flashing, the spa will heat to the new set temperature when required.
If a Temperature button is pressed and held when the temperature is flashing, the temperature will continue to change until the button is released.
PRE-SET FILTER CYCLES | TP600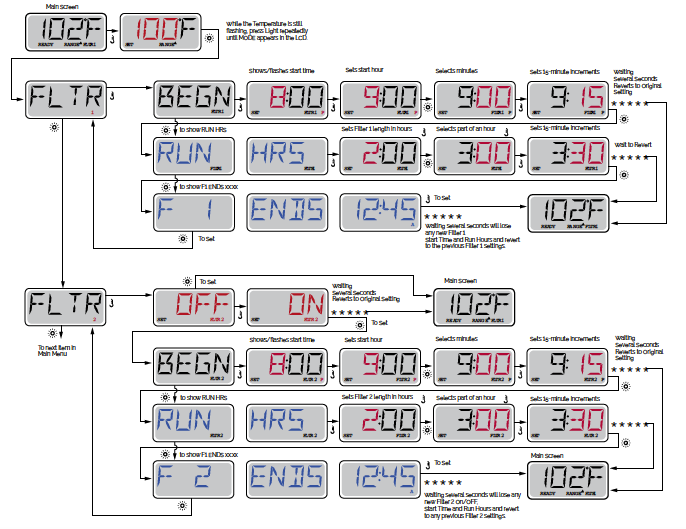 · TOUCH PANEL
TEMPERATURE CONFIGURATION | TOUCH PANEL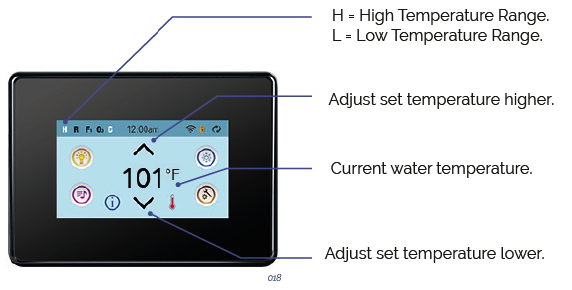 PRE-SET FILTER CYCLES | TOUCH PANEL
main filtration
Using the same adjustment as Setting the Time, Filter Cycles are set using a start time and a duration. Each setting can be adjusted in 15-minute increments. The panel calculates the end time and displays it automatically.
The Filter Icon

on the Settings Screen takes you to a screen where you control the Filter Cycles.
filter cycle 2 – optional filtration
Filter Cycle 2 is OFF by default. Press "1" to view Filter 1. Press "2" once to view Filter 2. Press "2" again to turn Filter 2 ON or OFF. When Filter Cycle 2 is ON, it can be adjusted in the same manner as Filter Cycle 1. It is possible to overlap Filter Cycle 1 and Filter Cycle 2, which will shorten overall filtration by the overlap amount.